MHRW: Raghav breaks Pallavi promise & heart huge confrontation ahead (Upcoming Twist)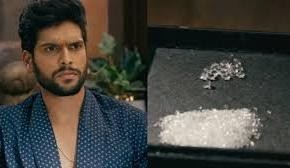 Mehndi Hai Rachne Waali: Raghav breaks Pallavi's promise
Star Plus show Mehndi Hai Rachne Waali is revolving around Raghav's huge lie.
It was earlier seen that Sunny wants to expose Raghav at any cost as he wants to break the trust Pallavi has on Raghav.
Sunny will soon reveal in front of Pallavi that Raghav is doing diamond smuggling and is behind the death of the young boy.
He will give the diamonds to Pallavi and will ask her to see Raghav's reaction.
Pallavi will be shocked to know that the diamonds actually belonged to Raghav and he is still into smuggling business.
Sunny traps Pallavi
Long back Pallavi had taken promise from Raghav that he will not do any kind of illegal activity and Raghav agreed to do so.
Pallavi will be heartbroken that Raghav went back by his words and still continued his illegal activities.
Will Raghav be able to explain himself or not?
Stay tuned for more updates only on Serialxpress.com.