GHKKPM: Sai 24 hours ultimatum before changing dynamics of Chavan Nivas (Upcoming Twist)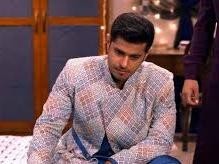 Ghum Hai Kisi Ke Pyaar Mein: Sai 24 hour's ultimatum ahead
Ghum Hai Kisi Ke Pyaar Mein is revolving around Sai's intensions to leave Chavan Nivas.
It seems that Sai has made up her mind to leave Chavan Nivas as she no longer wants to be part of a family that doesn't respect or love her.
She will inform Ashiwni that she will soon give them the biggest surprise of their life in the next 24 hours.
Sai will be indirectly indicating towards the fact that she has made up her mind to leave Chavan Nivas and go back to her village.
Sai walks out of Virat's life
She has not shared this news with anyone in the family as she doesn't want to create a drama.
On the other hand no will be able to understand what Sai is talking like this.
Will Virat be able to stop Sai from making such a huge decision or not?
Stay tuned for more such updates on Virat Sai and Pakhi's life.
Latest Ghum Hai Kisi Ke Pyaar Mein Updates