GHKKPM: Sai register domestic violence case against Virat gets Samrat's support (Upcoming Twist)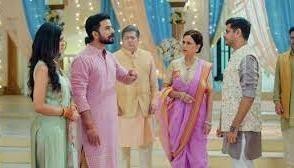 Ghum Hai Kisi Ke Pyaar Mein: Sai registers domestic violence case against Virat
Ghum Hai Kisi Ke Pyaar Mein is revolving around the huge clash between Virat and Samrat.
It seems that Virat will want to talk to Sai about her hideous act of leaving the house without the consent of the family.
However Samrat will show his support to Sai will not allow anyone to point fingers on her.
Samrat will further remind Virat that if Sai wants she can register a case of domestic violence against Virat as he locked her up in the room and mentally harassed her.
Samrat turns defensive towards Sai
Samrat will remind Virat that he is an IPS officer and hence knows the law of his country.
The entire family will get shocked to see the way Samrat is defending Sai.
Will Virat and Sai be able to leave their grievances behind and move ahead in life or not?
Stay tuned for more such updates on Virat Sai and Pakhi's life.
Latest Ghum Hai Kisi Ke Pyaar Mein Updates