GHKKPM: Pakhi unable to perform ritual leaves Samrat suspicious (Upcoming Twist)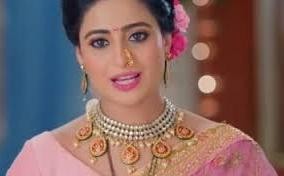 Ghum Hai Kisi Ke Pyaar Mein: Pakhi unable to concentrate during puja
Ghum Hai Kisi Ke Pyaar Mein is revolving around the misunderstanding between Pakhi and Samrat.
It seems that Pakhi will see Sai sitting next to Virat while performing the Satya Narayan puja and gets irked.
She will not be able to concentrate on the puja as she is deeply hurt seeing Sai and Virat together once again.
The pandit will keep asking Pakhi to concentrate towards the puja but each time Pakhi sees Virat with Sai she is not able to perform the rituals.
Pakhi Samar failed alliance
Samrat will notice the tears in Pakhi's eye while performing the puja and gets suspicious as he feels that Pakhi is not totally ready to accept their alliance.
Will Pakhi be able to move ahead in life or not?
Will Samrat be able to know what is playing in Pakhi's mind or not?
Stay tuned for more such updates on Virat Sai and Pakhi's life.
Latest Ghum Hai Kisi Ke Pyaar Mein Updates