GHKKPM: Samrat decides to go back to orphanage Pakhi turns obstacle (Upcoming Twist)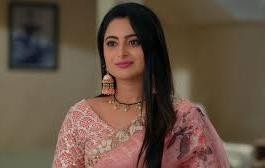 Ghum Hai Kisi Ke Pyaar Mein: Samrat decides to go back to orphanage
Ghum Hai Kisi Ke Pyaar Mein is revolving around the misunderstanding between Pakhi and Samrat.
It seems that Samrat will reveal in front of Pakhi and his mother that he wants to go back in orphanage as the kids need him.
Samrat will expect Pakhi to also accompany him to the orphanage.
This act of Samrat will leave Pakhi shocked as she doesn't want to leave Virat and Sai alone and go away with Samrat at any cost.
Pakhi will very smartly put forward her mother and will ask her to stop Samrat from leaving Nagpur.
Pakhi Samrat at loggerhead
Samrat on the other hand will understand that Pakhi is using her mother to stop him from leaving.
Will Samrat be able to stand by his decision or not?
Will Pakhi be able to succeed in convincing Samrat or not?
Stay tuned for more such updates on Virat Sai and Pakhi's life.