GHKKPM: Pakhi humiliated by Samrat plans to leave Chavan Nivas forever (Upcoming Twist)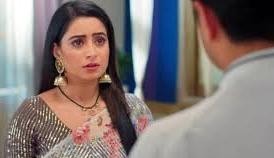 Ghum Hai Kisi Ke Pyaar Mein: Pakhi leaves Chavan Nivas forever
Ghum Hai Kisi Ke Pyaar Mein is revolving around Samrat anger towards Pakhi.
It seems that Virat will get angry with Sai for leaving the room without informing anyone.
Pakhi will be seen supporting Virat and will rebuke Sai for crossing her lines and disrespecting Virat in front of the entire family.
Shockingly Samrat will disagree with Pakhi and gets angry with her for always talking ill about Sai and creating misunderstanding between Virat and Sai.
Pakhi's mother will get upset with the ill treatment that Pakhi is getting in Chavan Nivas and will hence decide to take her daughter along with her.
Pakhi in deep trouble
The Chavan family will get shocked with Pakhi's final decision to leave Samrat and go away.
Will Pakhi be able to understand Samrat's love and concern towards her or not?
Will Samrat be able to soften up a little bit towards Pakhi or not?
Stay tuned for more such updates on Virat Sai and Pakhi's life.