GHKKPM: Pakhi recreate history once again to gain Virat's attention (Upcoming Twist)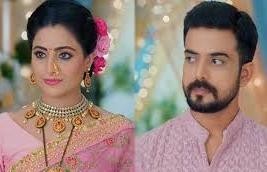 Ghum Hai Kisi Ke Pyaar Mein: Pakhi recreates history once again
Ghum Hai Kisi Ke Pyaar Mein is revolving around Pakhi's obsession with Virat.
It seems that Pakhi is upset with the fact that Virat is not looking or acknowledging her.
Pakhi will hence think of an idea to garb Virat attention once again.
She will put the pallu of her saree on fire so that Virat will save her once again just like he has done during yoga retreat.
However Virat will pay no attention towards Pakhi and in fact Samrat will be the person who will stop the fire from burning Pakhi's saree.
Pakhi will feel sad that once again she has failed as a lover.
Pakhi fails as lover
Samrat on the other hand will show concern towards Pakhi and performs the duty of a husband.
Will Pakhi be able to move on in life or not?
Will Pakhi be able to accept her marriage with Virat or not?
Stay tuned for more such updates on Virat Sai and Pakhi's life.