GHKKPM: Pakhi angry as Sai grabs the limelight once again (Upcoming Twist)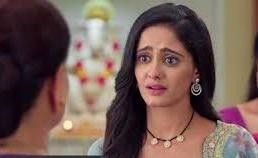 Ghum Hai Kisi Ke Pyaar Mein: Sai takes limelight from Pakhi
Ghum Hai Kisi Ke Pyaar Mein is revolving around Pakhi and her insecurities towards life.
It seems that Pakhi will get upset as Sai once again as she a created a scene during her most important day.
Pakhi will feel bad for herself as she had planned a lot for the puja as she is planning to start a fresh life.
However things are no more the same as once again Sai has planned to ruin her day and make it all about her.
Bhavani and Mansi will support Pakhi and feel bad for her as Sai has ruined the most special day of her life.
Pakhi hates Sai
Pakhi on the other hand will vow that she will never forgive Sai for making her life miserable.
Will Pakhi and Samrat be able to come together or not?
Will Sai be able to adjust in Chavan Nivas or not?
Stay tuned for more such updates on Virat Sai and Pakhi's life.