GHKKPM: Devyani past mental abuse resurface gets compared to Sai (Upcoming Twist)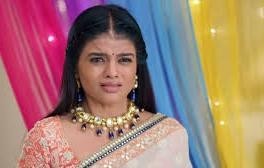 Ghum Hai Kisi Ke Pyaar Mein: Devyani gets compared to Sai
Ghum Hai Kisi Ke Pyaar Mein is revolving around Sai missing from her room.
It seems that Virat and Samrat will go to bring Sai back from her room but she has escaped from the room without informing anyone.
Shockingly Devyani will be very upset with Virat for treating Sai badly.
She will start recalling how Bhavani use to do the same thing with her long back as she is mentally challenged.
However Devyani will justify that Sai is not mad like her to be locked in the room without her consent.
Devyani recalls past trauma
Bhavani along with the rest of the family will feel bad about Devyani and the kind of treatement she use to get before her marriage.
Will Virat be able to realise his mistake or not?
Will Sai and Virat be able to unite or not?
Stay tuned for more such updates on Virat Sai and Pakhi's life.