GHKKPM: Sai locks all doors to go back to Virat (Upcoming Twist)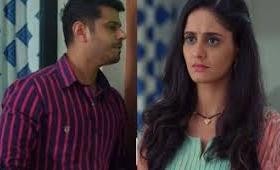 Ghum Hai Kisi Ke Pyaar Mein: Sai doesn't want to go back to Virat
Ghum Hai Kisi Ke Pyaar Mein is revolving around Sai's anger and frustration towards Virat and Chavan family.
It seems that things are no more in Sai and Virat's control as both are not willing to understand each other's feeling.
Sai will hence decide to go back to her village and continue her medical studies from there.
Pulkit will want Sai to think about it before taking any strong step as she is leaving behind the best college in Nagpur and wants to attend a local college in her village.
Sai wants to break all ties with Virat
However Sai will inform Pulkit that she wants peace of mind and doesn't want her career to suffer due to the daily drama in Chavan Nivas.
She hence wants to leave Chavan Nivas and go back to her village so that she closes all the doors that take her to Virat.
Stay tuned for more such updates on Virat Sai and Pakhi's life.
Latest Ghum Hai Kisi Ke Pyaar Mein Updates