GHKKPM: Pulkit forcefully bring Sai back in Chavan Nivas makes shocking revelation (Upcoming Twist)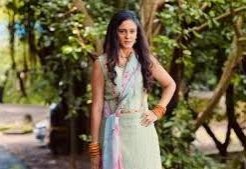 Ghum Hai Kisi Ke Pyaar Mein: Pulkit bring Sai in Chavan Nivas
Ghum Hai Kisi Ke Pyaar Mein is revolving around Sai making an exit from Chavan Nivas.
It was earlier seen that Sai has made up her mind that she needs to leave Chavan Nivas and go back to her village.
Pulkit will come to know about her decision from the dean of his college.
Pulkit will hence have a talk with Sai and will realise that she is talking like a typical wife and all her problems with Virat are the common problems that a husband and wife have.
Pulkit will come to know that Sai jumped from the window of her house as she didn't want to attend the puja.
Pulkit understand Sai dilemma
He knows that if Sai is not part of the puja than the Chavan Family will make a huge issue out of it and will hence plead her to go and attend the Puja.
Will Sai be able to continue her marriage with Virat or not?
Stay tuned for more such updates on Virat Sai and Pakhi's life.
Latest Ghum Hai Kisi Ke Pyaar Mein Updates