GHKKPM: Pulkit supports Sai's decision to leave Chavan Nivas last warning to Virat (Upcoming Twist)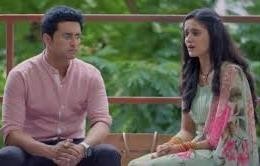 Ghum Hai Kisi Ke Pyaar Mein: Pulkit gives last warning to Virat
Ghum Hai Kisi Ke Pyaar Mein is revolving around Sai's decision to leave Chavan Nivas forever.
It seems that Sai will express her feeling in front of Pulkit that how Virat has changed his attitude towards her after Samrat's arrival.
She will reveal in front of Pulkit that she saw Virat and Pakhi in a cafe holding hands and shedding tears but the moment she tried to question their act the family bounced at her.
She will further reveal that Virat locked her up in the room so that she could not attend the college.
Pulkit warns Virat once again
Pulkit will be shocked to see the terrible change in Virat and will therefore support Sai's decision to walk out of Chavan Nivas.
It is heard that Pulkit will go to Chavan Nivas along with Sai and gives last warning to Virat to change his attitude.
Will Sai be able to understand Virat or not?
Stay tuned for more such updates on Virat Sai and Pakhi's life.
Latest Ghum Hai Kisi Ke Pyaar Mein Updates