GHKKPM: Samrat petrified to know Virat abusive behaviour towards Sai (Upcoming Twist)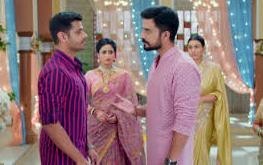 Ghum Hai Kisi Ke Pyaar Mein: Samrat petrified to know about Virat's shocking move
Ghum Hai Kisi Ke Pyaar Mein is revolving around Samrat supporting Sai against the whole family.
It seems that Samrat will soon come to know that Virat has locked Sai in her room so that she doesn't attend her college to be a part of the puja.
This will leave Samrat shocked as he feels that Virat is being rude and not realistic towards Sai.
He will get angry with Virat for being an abusive husband and trying to control his wife and make her do things against her own wish.
Samrat feels disappointed by Virat
Samrat will not be able to understand why Virat has changed so much and behaves in such a manner.
Samrat will call Sai as his younger sister and will warn Virat to be respectful towards her.
Will Samrat be able to bring Virat and Sai close or not?
Stay tuned for more such updates on Virat Sai and Pakhi's life.
Latest Ghum Hai Kisi Ke Pyaar Mein Updates