GHKKPM: Samrat demands Pakhi to choose between love & marriage (Upcoming Twist)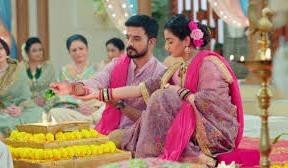 Ghum Hai Kisi Ke Pyaar Mein: Pakhi to choose between love and marriage
Ghum Hai Kisi Ke Pyaar Mein is revolving around Samrat anger towards Pakhi.
It seems that Samrat will notice that Sai is correct with her observation over Pakhi and finally understands that Pakhi is still not done with Virat and wants to be by his side always.
This will make Samrat fume in anger as he feels cheated by Pakhi.
He will hence once again burst out at Pakhi and will demand Pakhi to choose between love and marriage.
Samrat supports Sai
Pakhi will be very disappointed by Samrat as once again he is creating a huge scene in front of everyone by supporting Sai over her.
Samrat on the other hand is very clear that he will not support the wrong person at any cost.
Will Pakhi be able to understand Samrat's love and concern or not?
Stay tuned for more such updates on Virat Sai and Pakhi's life.
Latest Ghum Hai Kisi Ke Pyaar Mein Updates