GHKKPM: Samrat disgusted to see Pakhi's misconduct towards Sai (Upcoming Twist)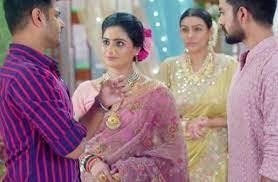 Ghum Hai Kisi Ke Pyaar Mein: Samrat burst out Pakhi and Virat
Ghum Hai Kisi Ke Pyaar Mein is revolving around Pakhi interfering in Virat and Sai's matter.
It seems that Samrat will not allow anyone to question Sai for leaving the house without informing anyone.
He will be seen supporting Sai and yelling at Virat for been a bad husband and leaving Sai with no other option but to jump from the window.
Pakhi will once again get angry with Sai and will point finger on her for spoiling her ceremony and taking the lime light.
Pakhi on revenge mode
Pakhi will be seen targeting Sai in front of the family once again and this will disturb Samrat.
He will yell at Pakhi in front of the entire family and ask her to shut up as the matter doesn't involve her.
Will Pakhi be able to seek revenge from Sai for spoiling her ceremony or not?
Stay tuned for more such updates on Virat Sai and Pakhi's life.
Latest Ghum Hai Kisi Ke Pyaar Mein Updates