Imlie: Imlie gets intoxicated Anu in Tripathi house major revelation time ahead (Upcoming Twist)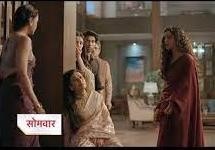 Imlie: Intoxicated Anu in Tripathi house
Star Plus' latest offering Imlie is revolving around Anu's hideous plan against Aditya and his family.
It was earlier seen that Imlie will register a case against Malini for molesting Aditya.
Apparently Imlie will not be able to prove Malini wrong as everyone is favouring her.
Imlie will hence disguise as Malini and will plan to bring intoxicated Anu in Tripathi house so that Anu will confess her crime against Aditya and Tripathi family.
Though Aditya and Aparna are against this plan but Imlie will request for last chance as she doesn't want to lose hope so easily.
Imlie will bring intoxicated Anu in her house as she wants to know about Malini's hideous act of molesting Aditya.
Malini spoils Imlie's plan
However things will not go as planned as Malini will spoil her plan.
Will Imlie be able to defeat Malini and Anu or not?
Will Anu reveal the truth to Imlie?
Let's see what will happen next in the show.