Imlie: Tripathi family face public prosecution Imlie turns defensive (Upcoming Twist)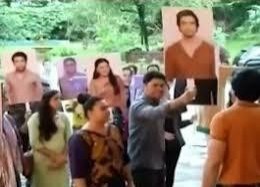 Imlie: Tripathi family face public anger
Star Plus' latest offering Imlie is revolving around Anu's hideous plan against Aditya and his family.
It was earlier seen that Imlie will register a case against Malini for molesting Aditya.
Anu will try to stop Imlie and her entire family from leaving their house and reaching the court on time so that the judge will dismiss the case.
Anu will get crowd outside Aditya's house and will accuse him of playing with the honour of a lady by registering a fake complain.
The crowd will gather outside Aditya's house and will be seen throwing shoes at Aditya and his family.
Imlie takes stand for Aditya
However Imlie will once again turn their shield and will fight against the entire crowd to prove that she is right.
She will not let anyone make judgements on her family before the court.
Will Imlie be able to win against Malini or not?
Will Malini be able to get Aditya back in her life or not?
Let's see what will happen next in the show.