Pandya Stores: Rishita responsibility toward Dhara melts Suman's heart (Upcoming Twist)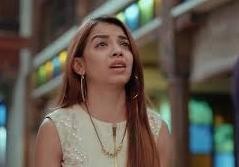 Pandya Stores: Rishita turns responsible towards Pandya house
Star Plus show Pandya Stores is revolving around a robbery in Pandya house.
It seems that Rishita will once again fight against all odds and save Dhara and Suman from the two burglars.
Rishita will win Suman's heart by protecting them against the two burglars.
Later Rishita will show her responsibility towards the family and Dhara by deciding to not pursue her career till the time Dhara's pregnancy is not over as she knows that she is needed in the house.
Rishita wins Dhara's heart
Raavi Dhara and Suman will be shocked to see the drastic change in Rishita as now she has started thinking about her family rather than only about herself.
However Gautam will not want Rishita to make any sacrifice as the house and Dhara are everyone's responsibility and not just Rishita's.
Will the family be able to tackle this problem or not?
Stay tuned for more such updates only on Serialxpress.com.
Latest Pandya Store Updates