Pandya Stores: Anita vicious act against Dhara leaves Prafula traumatised (Upcoming Twist)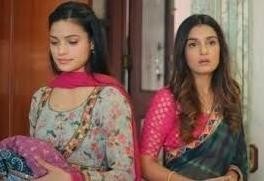 Pandya Stores: Anita's vicious act against Dhara
Star Plus show Pandya Stores is revolving around Anita's dirty planning and plotting against Dhara.
It seems that Anita will bring fruits from Dhara and will inject it with some kind of jari buti that will harm Dhara and her unborn baby.
Prafula will try to stop Anita from taking the fruits to Dhara's house as she doesn't want Anita to fall in any kind of trouble.
However Anita is too adamant to listen to anyone.
Prafula will raise her hands to stop Anita but Anita will catch her hand and will not let anyone interfere in her decision.
Prafula scared of Anita's plan
Prafula for the first time is scared as she feels that Anita is crossing her limits in harming Dhara and the Pandya family.
Will Anita succeed in her dirty mission to harm Dhara and her baby?
Will Prafula be able to stop Anita before it's too late?
Stay tuned for more such updates only on Serialxpress.com.