Pandya Stores: Rift between Dev & Rishita get intense due to Dhara's pregnancy (Upcoming Twist)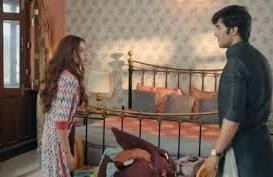 Pandya Stores: Dhara creates rift between Dev and Rishita
Star Plus show Pandya Stores is revolving around the huge fight between Dev and Rishita.
It seems that Rishita will inform Dev that she has got a good job and will go to her house to get her college certificate.
Dev is upset with Rishita that she is running away from work and her responsibility towards the house.
This will irk Rishita once again as she feels that Dev only cares about his family and no one else.
Dev on the other hand will try to explain to Rishita that she only thinks about her likes and dislike and should change her attitude.
Dev unable to change Rishita
The fight between Rishita and Dev is getting intense as both are not ready to understand each other.
Will Rishita be able to contribute towards work in Pandya house?
Will Dev be able to make Rishita realise the importance of family?
Stay tuned for more such updates only on Serialxpress.com.