Pandya Stores: OMG! Gautam gives last warning to Shivaa Raavi (Upcoming Twist)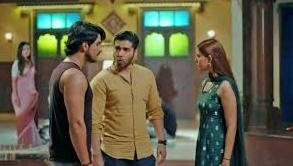 Pandya Stores: Gautam gives last warning to Shivaa and Raavi
Star Plus show Pandya Stores is revolving around the fight between Raavi and Shivaa.
It was earlier seen that the Pandya house is once again in huge dilemma as once again they have to choose between Raavi and Shivaa.
Shiva will be shocked seeing Raavi back in Pandya house and will try to know the reason behind her return.
Later Gautam will catch hold of both Raavi and Shivaa and will ask them to sort out their differences if they want to stay in Pandya house.
Gautam will also warn Shivaa to control is anger or else he has to face his anger instead.
Gautam respect Raavi's feelings
Surprisingly Gautam will also ask Dhara to stay away from Raavi if she doesn't want to be around her.
Gautam knows that Raavi has come back to Pandya house due to Dhara and will hence respect her feelings.
Will Dhara be able to forgive Raavi or not?
Stay tuned for more such updates only on Serialxpress.com.