Pandya Stores: Anita gives drugs to Dhara puts child life in danger (Upcoming Twist)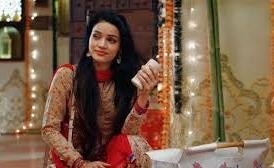 Pandya Stores: Dhara's child life in danger
Star Plus show Pandya Stores is revolving around Anita's dirty planning and plotting against Dhara.
It seems that someone will give a magical powder to Anita and reveals that if anyone has the powder he or she will fall in love with the person who have given them the powder.
Anita will inject the powder in fruits and gives it to Gautam to have but instead Dhara will have it.
This will make Dhara feel dizzy and she will lose her conscious.
Due to Anita's huge mistake Dhara and her child's life will be in anger as the powder will have some kind of drugs in it.
Anita steep low once again
Dhara is not aware the Anita has planned such a cheap trick on her.
Will Dhara be able to save her child from this mishap?
Will Anita be able to realise her mistake or not?
Stay tuned for more such updates only on Serialxpress.com.