Pandya Stores: Dhara gives cold shoulder to Raavi before huge mishap (Upcoming Twist)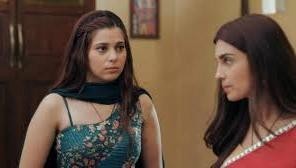 Pandya Stores: Dhara gives cold shoulder to Raavi
Star Plus show Pandya Stores is revolving around Raavi attempt to win Dhara's heart once again.
It seems that Raavi has come to Pandya house as she wants to seek apology from Dhara.
However Dhara is very angry with her as she humiliated her in front of the whole society.
Shockingly Dhara's saree will catch fire and Raavi will not think twice before helping her out.
She will save Dhara but while doing so she will burn both her hands.
Dhara's heart will melt seeing the love that Raavi is showering over her.
Raavi wins Dhara's heart
Raavi has time and again proved that Dhara is the most important person in her life and she can do anything for her.
Dhara on the other hand loves Raavi like her own sister and will feel bad seeing her burnt hands.
Will Dhara and Raavi be able to bond once again or not?
Stay tuned for more such updates only on Serialxpress.com.