Mehndi Hai Rachne Waali: Pallavi Raghav insult Sunny stop Sunny from performing puja (Upcoming Twist)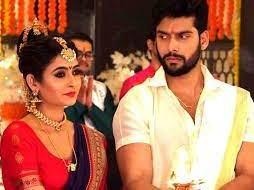 Mehndi Hai Rachne Waali: Raghav Pallavi don't allow Sunny to perform puja
Star Plus show Mehndi Hai Rachne Waali is revolving around Pallavi and Sunny's huge fight.
It was earlier seen that Sunny and Kirti will get married against the wishes of Raghav and Jaya.
This will not go down well with Raghav and he will not agree to accept Sunny as Kirti's husband.
The Rao family will bring Ganesh ji to their house and will perform a special puja for him.
However both Raghav and Pallavi will not allow Sunny to be a part of the puja as they have not accepted Sunny as Kirti's husband.
Raghav makes Sunny life difficult
Sunny and Kirti will feel insulted by the entire family as they have asked not to be a part of the puja.
Kirti will be seen calming Sunny as she knows that Raghav will take lot of time to accept their marriage.
Will Raghav and Pallavi accept Sunny as the son in law of their house?
Stay tuned for more updates only on Serialxpress.com.