Mehndi Hai Rachne Waali: Raghav demand Pallavi to reverse time (Upcoming Twist)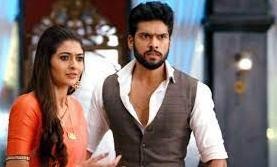 Mehndi Hai Rachne Waali: Raghav makes shocking demand
Star Plus show Mehndi Hai Rachne Waali is revolving around Pallavi asking for Raghav's apology.
I was earlier seen that Kirti will run away from house and get married to Sunny due to Pallavi's negligence of opening her room door.
Raghav is pissed off with Pallavi as due to her Kirti has made the biggest mistake of her life.
Pallavi will try to apologise to Raghav and will try to talk to him that she did not do anything intentionally.
Raghav avoid talking to Pallavi
However Raghav is not willing to forgive her and will instead remind her if she can reverse time and stop Sunny and Kirti's wedding than he will be able to forgive her.
Raghav is not able to forget the fact that Pallavi went against his wish and due to that Kirti ruined her life.
Will Raghav be able to know the actual truth behind Kirti and Sunny's wedding or not?
Stay tuned for more updates only on Serialxpress.com.
Latest Mehndi Hai Rachne Waali Updates