Mehndi Hai Rachne Waali: Raghav downfall begins as Sunny dig out truth (Upcoming Twist)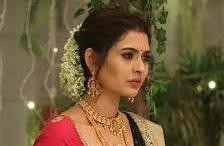 Mehndi Hai Rachne Waali: Raghav suffers heavy loss in business
Star Plus show Mehndi Hai Rachne Waali is revolving around Raghav's troubled business.
It seems that Raghav is facing one problem after another as police is behind his men for smuggling diamonds.
Shockingly Sunny will soon come to know about the fact that Raghav deals with illegal activities and hence is facing some financial issues.
He will soon share this news with Pallavi as he wants to create rift between Raghav and Pallavi.
Raghav unacceptable act
Sunny will get a golden opportunity to separate Raghav and Pallavi as he knows that Pallavi is a very hardworking woman and at no cost he will be able to accept this kind of stuff from Raghav.
Pallavi on the other hand will not trust Sunny as she knows that Raghav is an honest man.
Will Pallavi and Raghav be able to solve this problem or not?
Stay tuned for more updates only on Serialxpress.com.
Latest Mehndi Hai Rachne Waali Updates