Mehndi Hai Rachne Waali: Jaya slaps Pallavi for misguiding Kirti (Upcoming Twist)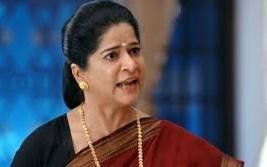 Mehndi Hai Rachne Waali: Jaya slaps Pallavi in anger
Star Plus show Mehndi Hai Rachne Waali is revolving around Kirti getting to Sunny behind Raghav's back.
It was earlier seen that Kirti will go against her entire family and marry Sunny behind their back.
She will very smartly hug Pallavi in front of everyone and states that she is thankful for her as due to her she has been able to marry Sunny.
Jaya and Raghav will hear this and misunderstand Pallavi.
They will start feeling that Pallavi helped Kirti to escape from her room and therefore get pissed with her.
Pallavi falls in Jaya's eyes
Pallavi on the other hand will try to explain Jaya and Raghav that Kirti pushed her and ran away from the room but no one will believe her.
Jaya will be the most disappointed and will very raise her hands on Pallavi for ruining her daughter's life as due to her Kirti got married to a wrong person.
Stay tuned for more updates only on Serialxpress.com.
Latest Mehndi Hai Rachne Waali Updates