MHRW: Raghav breaks ties with Kirti forever Sunny gets restless (Upcoming Twist)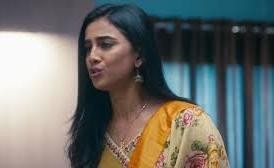 Mehndi Hai Rachne Waali: Raghav kicks Kirti out of house
Star Plus show Mehndi Hai Rachne Waali is revolving around Kirti's escape from RR mansion.
It seems that Kirti and Sunny will get married against the wishes of Raghav and his Amma.
This act of Kirti will break Raghav's heart and he will hence break all his ties from Kirti and will ask her to leave RR mansion as soon as possible.
Sunny will get scared as all this time he did all the hard work just because he wanted to stay with RR mansion and lead a luxurious life.
Sunny bring Kirti Raghav close
Sunny will try to fix Raghav and Kirti's relationship after marriage as he knows that this is the only way he will be able to stay in RR mansion.
Will Raghav be able to keep his ego aside and forgive Kirti?
Will Sunny be able to succeed in his planning and plotting?
Stay tuned for more updates only on Serialxpress.com.
Latest Mehndi Hai Rachne Waali Updates