MHRW: Post marriage Sunny tortures Kirti for money Pallavi restless (Upcoming Twist)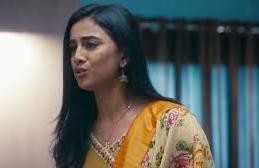 Mehndi Hai Rachne Waali: Sunny tortures Kirti for money
Star Plus show Mehndi Hai Rachne Waali is revolving around Sunny's planning and plotting against Raghav Rao.
It seems that Sunny and Kirti will run away from RR mansion and get married to each other without informing anyone.
This will leave both Raghav and Jaya fuming in anger and they will hence throw her out of the house.
Sunny will be shocked as he wanted to stay in RR mansion and therefore got married to Kirti.
Apparently after sometime Sunny will start misbehaving with Kirti as he didn't get what he wanted.
Kirti trapped by Sunny
Sunny will be seen torturing Kirti to bring money from her house but she will not do so as she fought against her family to marry Sunny.
Will Raghav be able to help Kirti to come out of the marriage or not?
Will Pallavi be able to end Sunny's evilness or not?
Stay tuned for more updates only on Serialxpress.com.