MHRW: Robbery in RR mansion Raghav force to hide truth (Upcoming Twist)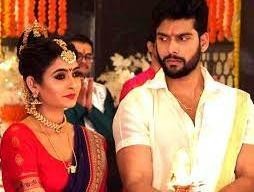 Mehndi Hai Rachne Waali: Huge robbery in RR mansion
Star Plus show Mehndi Hai Rachne Waali is revolving around Raghav Pallavi's victory over Mandar.
It seems that after a lot of ups and down Raghav and Pallavi will be back in RR mansion and happy that things are now going to get smooth in their life.
Raghav will gift Pallavi an expensive diamond set as a gift of love.
Surprisingly the diamond necklace will go missing from Raghav's house and this will leave the entire family shocked as they have a thief in their house.
Pallavi guilty of losing diamonds
Pallavi will get extra nervous as it's an expensive piece of jewellery and feels guilty that she could not keep it safely.
Raghav on the other hand will try to calm Pallavi and will get to the bottom of the mystery.
Will Raghav and Pallavi be able to know who the real thief is or not?
Stay tuned for more updates only on Serialxpress.com.
Latest Mehndi Hai Rachne Waali Updates