MHRW: OMG! Sharda knew about Devyani murder mystery (Upcoming Twist)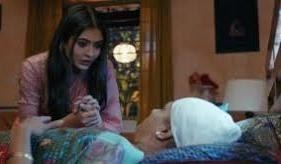 Mehndi Hai Rachne Waali: Sharda reveals about Devyani's murder case
Star Plus show Mehndi Hai Rachne Waali is revolving around Sharda and Mandar's secret.
It seems that Sharda will soon expose Mandar in front of the entire family and reveals that she came to know on Mandar and Pallavi's wedding night that Mandar killed Pallavi's best friend Devyani as she came to know the truth.
Sharda will further reveal that she hence wanted Mandar and Pallavi's relationship to break and was happy to know that he died.
This is going to be a huge revelation as no one in the family knew that Sharda is hiding such important information from them.
Pallavi ends Mandar's game
Pallavi will also be hurt as Sharda didn't tell her about the fact that Mandar killed her best friend.
Though Mandar will try to rubbish the allegation and run away from them but Raghav will not allow them to do so.
Will Pallavi be able to forgive Sharda for hiding the truth or not?
Stay tuned for more updates only on Serialxpress.com.
Latest Mehndi Hai Rachne Waali Updates