MHRW: Sunny Kirti elope & get married Sunny close to vicious goal (Upcoming Twist)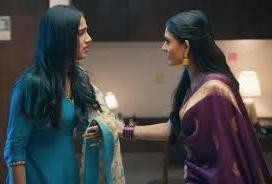 Mehndi Hai Rachne Waali: Kirti Sunny elope from RR mansion
Star Plus show Mehndi Hai Rachne Waali is revolving around Sunny and Kirti's relationship.
It seems that Kirti is very adamant about getting married to Sunny but Amma and Raghav disapprove of it.
Raghav then locks her in the room and ends up fighting with Pallavi due to Kirti.
In the upcoming episode, Keerti escapes from the locked room and rushes with Sunny to get married.
She returns home after getting married to him and leaves the family in shock.
Sunny finally finds himself closer to his goal of turning RR mansion into SA mansion soon.
Major setback for Raghav
However his plan will face a major setback as Kirti doesn't want to stay in RR mansion after marriage but wants to stay with Sunny in his 2 BHK house.
Will Sunny be able to change Kirti's decision or not?
Will Sunny be able to succeed in his evil mission or not?
Stay tuned for more updates only on Serialxpress.com.