Bade Ache Lagte Hai 2: Akshay Shivina secret affair leaves Priya fuming in anger (Upcoming Twist)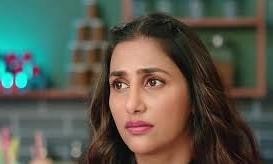 Bade Ache Lagte Hai 2: Akshay Shivina love story revealed
Sony Entertainment daily popular show Bade Ache Lagte Hai season 2 is revolving around Shivina and Akshay's love story.
It seems that Shivina is in love with Akshay but agree to marry some other person under the pressure of her family.
She will soon reveal about the same to Priya and takes her into confidence.
Shivina will reveal that she wanted commitment with Akshay but he was not giving her and therefore he took such a huge step.
Shivina gets Akshay's support
Priya will be seen fuming in anger as she feels that Shivina is cheating on her fiancé as well as her family by meeting Akshay secretly.
Akshay on the other hand will beg Priya to support their love as she is only person whom she can trust.
Will Shivina and Akshay be able to unite or not?
For more exciting updates, stay tuned to Serialxpress.com.
Latest Bade Acche Lagte Hai 2 Updates