MHRW: Raghav forced to commit suicide to save Pallavi's life (Upcoming Twist)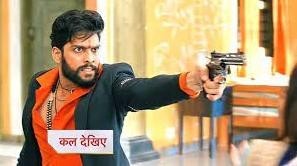 Mehndi Hai Rachne Waali: Raghav forced to commit suicide due to Mandar
Star Plus show Mehndi Hai Rachne Waali is revolving around Raghav and Pallavi's last fight to expose Mandar.
It seems that after a lot of ups and down Raghav and Pallavi will finally get evidence against Mandar that he is an evil person and due to him Sharda is paralysed.
Raghav will show a video in which Mandar will throw Sharda from the terrace and this will leave the entire family in a state of shock.
Mandar will still not give up so easily and will in fact put knife on Pallavi's neck and will demand Raghav to kill himself if he wants to save Pallavi's life.
Raghav in tough spot
Raghav has once again landed up in a tough spot where he has to make a life changing decision.
Will Raghav be able to save Pallavi from Mandar or not?
Will Raghav really sacrifice his life for Pallavi?
Stay tuned for more updates only on Serialxpress.com.
Latest Mehndi Hai Rachne Waali Updates