MHRW: Sharda leaves shocking clue behind for Raghav Pallavi (Upcoming Twist)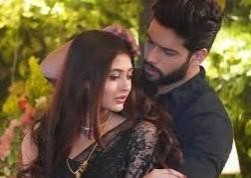 Mehndi Hai Rachne Waali: Sharda gives clue to Raghav Pallavi
Star Plus show Mehndi Hai Rachne Waali is revolving around Raghav and Pallavi's life.
It seems that the show is soon going to witness the biggest turning point as Sharda will try to give clues to Pallavi.
Even though Sharda is not able to talk or move around but she will give clues to both Raghav and Pallavi by using the code language that Pallavi and Sharda had created many years back.
Sharda will use the codes and reveals in front of Raghav and Pallavi that the clues against Mandar are there in Mansi's phone.
Mandar evilness ends
This will be a huge breaking point in Raghav and Pallavi's life as both are fed up of Mandar and want to finish his evilness as soon as possible.
Will Raghav and Pallavi be able to get the clues or not?
Will Mandar be able to save himself from Raghav and Pallavi's attack or not?
Stay tuned for more updates only on Serialxpress.com.
Latest Mehndi Hai Rachne Waali Updates