Mehndi Hai Rachne Waali: Pallavi breathe last tries to save Mandar from Raghav (Upcoming Twist)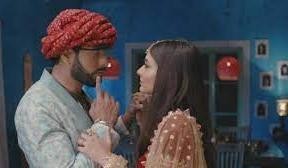 Mehndi Hai Rachne Waali: Pallavi dies instead of Mandar
Star Plus show Mehndi Hai Rachne Waali is revolving around Raghav's shocking step to end Mandar's game.
It seems that Raghav is boiling in anger as he is not able to control things around him.
He will soon decide to kill Mandar and end his planning and plotting forever.
However Pallavi will suspect foul play and will hence go against all odd to save Mandar as she knows that if Raghav kills Mandar that he will be thrown behind the bars forever.
It is heard that while trying to stop Raghav from killing Mandar Pallavi will get shot and will battle between life and death.
Pallavi suffers due to Raghav
Raghav will feel guilty as due to his mistake Pallavi is suffering.
Mandar on the other hand will be scared that Raghav is not going to leave him alive if anything happens to Pallavi.
Will Pallavi and Raghav be able to unite or not?
Stay tuned for more updates only on Serialxpress.com.