Mehndi Hai Rachne Waali: Not Mandar but Raghav mistakenly shoot Pallavi (Upcoming Twist)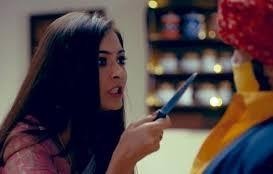 Mehndi Hai Rachne Waali: Raghav mistakenly shoot Pallavi
Star Plus show Mehndi Hai Rachne Waali is revolving around the huge fight between Raghav and Mandar.
It seems that Pallavi will soon make out that Raghav is planning to kill Mandar and end his game forever.
Pallavi is shocked and doesn't want Raghav to take such a step as she knows that Raghav's life will be destroyed completely after this incident.
Pallavi will hence try to stop Raghav from killing Mandar.
Shockingly just when Raghav will pull out his gun to kill Mandar Pallavi will come between them and gets shot mistakenly.
Pallavi life in danger
This will have a huge impact on Raghav as he could not have imagined in his wildest dream that he will hurt Pallavi and put her life in danger.
Will Pallavi and Raghav be able to overcome these times or not?
Will Raghav be able to Pallavi's life or not?
Stay tuned for more updates only on Serialxpress.com.