Imlie: Meethi overhears Malini Anuja vicious act makes shocking claim (Upcoming Twist)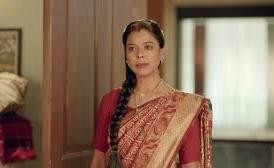 Imlie: Meethi overhears Malini and Anuja
Star Plus' latest offering Imlie is revolving around Aditya's shocking death.
It seems that Imlie will not be able to believe that Aditya has left her forever and will go in search of him.
In the meanwhile Meethi will overhear Malini talking to Anuja about her mistake of calling up Satyakam and instigating him against Aditya.
Meethi will get furious listening to Malini and Anuja and hold the two responsible for Aditya's faith.
Though Anuja will try to shut Meethi but Meethi is not going to listen to her at any cost as she knows that Malini is behind the entire fiasco.
Malini falls from Meethi's eyes
Imlie on the other hand is leaving no stone turned to bring Aditya back as she has full confidence that nothing can happen to Aditya.
Will Meethi be able to teach a lesson to Anuja or not?
Will Malini be able to realise her mistake or not?
Let's see what will happen next in the show.