Imlie: Post Aditya's death his duplicate enter Imlie's life (Upcoming Twist)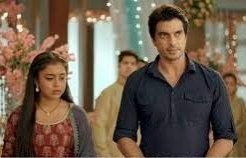 Imlie: Aditya's duplicate to enter Imlie's life
Star Plus' latest offering Imlie is revolving around Aditya's shocking death.
It seems that due to Malini's vicious plan Satyakam will kill Aditya and throw him from the cliff.
This will be the biggest turning point of the show as each and everyone in the family will hold Imlie responsible as due to her Aditya lost his life.
If rumours are to be believed soon Aditya's lookalike is going to enter the show and spice up the storyline.
Imlie along with the rest of the family will feel that Aditya is back from the death.
However their hopes will soon be destroyed as they will realise that this man is just Aditya's duplicate.
Aditya lookalike enters Tripathi house
Imlie on the other hand will get suspicious and tries to get to the bottom of the mystery.
Will Imlie be able to accept Aditya's death or not?
Will Aditya's lookalike be able to make his place in Tripathi house?
Let's see what will happen next in the show.