Imlie: Imlie threatens Malini finds out link between Malini & Aditya's death (Upcoming Twist)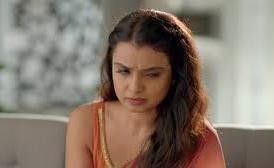 Imlie: Imlie threatens Malini for Aditya's death
Star Plus' latest offering Imlie is revolving around Imlie attempt to know the truth.
It seems that Imlie is facing the biggest challenge of life as the family thinks that Aditya is death but she has full faith on god and her love.
Later Imlie will be seen threatening Malini that if she comes to know that Malini has anything to do with Aditya's death news than she will not leave her at any cost.
Malini on the other hand is scared and guilty as she never thought that Satyakam will take such a step.
Malini guilty for Aditya's death
Both Malini and Imlie will be depressed and start searching for Aditya.
This is going to be the biggest turning point of the show as now nothing is in Imlie and Malini's hand and they work is to wait and watch.
Will Imlie be able to know the truth or not?
Let's see what will happen next in the show.