Anupamaa: Toshu ashamed as Vanraj Anupamaa distribute pamphlets on road (Upcoming Twist)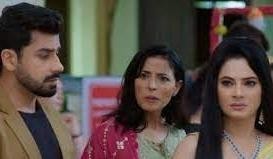 Anupamaa: Anupamaa Vanraj distribute pamphlets
Star Plus show Anupamaa is going to witness some major changes in storyline.
It seems that Vanraj and Anupamaa are much tensed as Vanraj is not getting good response from his cafe.
Vanraj and Anupamaa will come up with an idea to make people aware of the Cafe by distributing pamphlets.
Vanraj will be standing on road side distributing the pamphlets and Rakhi and Toshu will see them doing so.
This will have a huge impact on Rakhi as she will feel that Vanraj is spoiling her reputation by doing all this low grade work.
Toshu embarrassed by Vanraj
Rakhi will yell at Toshu and demands him to stop Vanraj from embarrassing them further.
Toshu will also feel ashamed of Vanraj and the way he is distributing the pamphlets on road side.
Kavya will secretly enjoying seeing the rift between Pakhi and Anupamaa.