Anupamaa: Anupamaa alarmed as Kinjal Paritosh's marriage deteriorates (Upcoming Twist)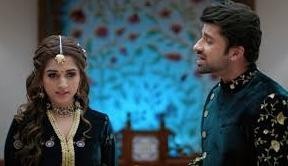 Anupamaa: Anupamaa alarmed by bitterness in Kinjal Paritosh marriage
Star Plus show Anupamaa is going to witness some major fight between Kinjal and Paritosh.
It was earlier seen that Rakhi will brainwash Paritosh against his own family and will hence suggest time to move out of the house.
Though Paritosh will try to talk to Kinjal about it but she doesn't want to leave the Shah House at any cost.
Kinjal and Paritosh had a bitter tiff and chaos over it, which Anupamaa overhears and realises that their relationship is getting affected by all this.
Anupamaa gets alarmed on seeing the deterioration of Kinjal and Paritosh's love relationship.
Kinjal Paritosh at loggerhead
Hence, Anupamaa decides to talk to Kinjal and convince her into moving by agreeing with Paritosh, without spoiling their relationship.
Will Kinjal listen to Paritosh and Anupamaa or not?
Kavya will secretly enjoying seeing the rift between Pakhi and Anupamaa.