Anupamaa: Kavya calls Baa's gyan stupid Pakhi defends Kavya (Upcoming Twist)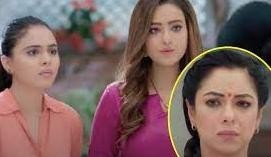 Anupamaa: Baa gives gyan to Kavya and Pakhi
Star Plus show Anupamaa is revolving around the bitterness between Anupamaa and Pakhi.
It was earlier seen that Kavya is using Pakhi's anger as weapon against Anupamaa.
She is drifting Pakhi away from Anupamaa as she knows that Pakhi is the weakest link in the family.
Baa will think that this is her responsibility to handle the differences between Anupamaa Kavya and Pakhi and try to make them understand each other.
However Kavya will insult Baa and tells that her gyan is stupid.
Shockingly Pakhi will also support Kavya and her thought process and laughs at Baa.
Pakhi brainwashed by Kavya
Baa will start thinking that Pakhi is just like Kavya therefore the two get along so well.
Will Pakhi be able to understand her mistake or not?
Kavya will secretly enjoying seeing the rift between Pakhi and Anupamaa.