Anupamaa: Pakhi held accountable Kavya thrashed by Anupamaa's anger (Upcoming Twist)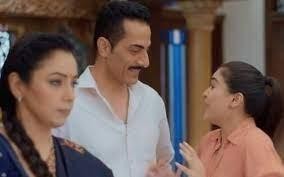 Anupamaa: Anupamaa gives reality check to Pakhi
Star Plus show Anupamaa is one of the most talked about show in recent times.
It seems that Pakhi and Kavya will order food from Vanraj's cafe and didn't bother to give him money.
Anupamaa will be further angry as the food is untouched as Pakhi and Kavya ordered more than required.
Anupamaa will be seen yelling at Pakhi for taking advantage of her father's lenient behaviour towards her and ordering food without paying.
Kavya will try to support Pakhi but Anupamaa will thrash her as well.
Anupamaa will take out money from Kavya for ordering food and later warn her from ever ordering food without giving money.
Anupamaa lose temper on Pakhi
Anupamaa for the first time will scream and yell at Pakhi for not respecting her father's hard work.
Will Pakhi and Kavya understand their mistake or not?
Kavya will secretly enjoying seeing the rift between Pakhi and Anupamaa.