Anupamaa: Anupamaa berates Pakhi for insulting food & Vanraj (Upcoming Twist)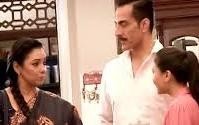 Anupamaa: Anupamaa burst out at Pakhi
Star Plus show Anupamaa is going to witness some major fight between Pakhi and Anupamaa.
It seems that Anupamaa will get very angry with Pakhi for disrespecting food and throwing it away.
She will make Pakhi realise that how difficult it is to grow and make food from the scratch.
Pakhi will try to defend herself but Anupamaa will yell at her for being so ungrateful and childlike.
Anupamaa will give life example to Pakhi and later feels that they have failed as parents to teach Pakhi the real essence of life.
Anupamaa burst out at Pakhi
Though Kavya will try to intervene but Anupamaa will stop her from talking between mother and daughter.
Anupamaa for the first time in many years has screamed at Pakhi and made her realise her mistake.
Kavya will secretly enjoying seeing the rift between Pakhi and Anupamaa.