Anupamaa: Vanraj supports Pakhi's arrogance Anupamaa lashes in anger (Upcoming Twist)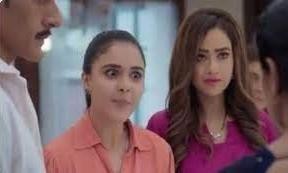 Anupamaa: Anupamaa goes against Vanraj and Pakhi
Star Plus show Anupamaa is currently focussing on Anupamaa's attempt to teach Pakhi manners.
It seems that Vanraj will get upset with Anupamaa for yelling at Pakhi for menial things.
However Anupamaa will not listen to Vanraj and will make her point across with Pakhi at any cost.
Vanraj will once again get angry with Anupamaa for causing drama in the house for no reason.
Apparently Anupamaa will stop Vanraj from taking side and will ask him to make Pakhi responsible for her action.
Anupamaa wants Pakhi to learn manners at any cost and will henceforth stop taking her bad behaviour.
Pakhi arrogance hurt Anupamaa
Vanraj on the other hand cannot see his daughter in tears and will blindly support her.
Will Pakhi be able to change her attitude or not?
Kavya will secretly enjoying seeing the rift between Pakhi and Anupamaa.