Imlie: Aparna locks Aditya in house to stop public display of love (Upcoming Twist)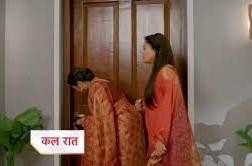 Imlie: Aditya locked inside the room
Star Plus' latest offering Imlie is going to witness some major change in storyline.
It seems that Imlie has participated in best bahu contest and the next round is the best dance couple.
Aparna will notice Imlie and Aditya close dance in house and gets overwhelmed as she does not want the whole world to see both of them together.
Shockingly on the day of competition Aparna will lock Aditya inside his room so that he cannot come to the competition on time and gets disqualified.
Aparna masterstroke ahead
Aparna will feel guilty about it but she is doing all this for the respect and honour of her family.
Imlie on the other hand is tensed as if Aditya doesn't come on time than she will get disqualified.
Let's see what will happen next in the show.