Imlie: Anu stamps Imlie as Gavaar & classless Pallavi jumps in support (Upcoming Twist)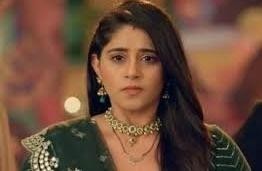 Imlie: Anu humiliates Imlie in front of everyone
Star Plus' latest offering Imlie is revolving around Imlie participation in best Bahu competition.
It seems that Imlie will win the cooking competition but Anu will raise her objection as she will feel that Imlie has not followed the rule to make a continental dish and instead has made a Desi dish.
Anu will further humiliate Imlie by calling her as Gavaar and classless in front of everyone.
However Pallavi will not be able to tolerate Imlie's insult and will jump in to support her.
Anu plan flops terribly
Pallavi will introduce herself as a profession cook and makes the judges realise that Imlie has in fact cooked a continental dish.
The judges agree with Pallavi and later announce Imlie as the winner of the cooking round
Let's see what will happen next in the show.