Imlie: Poor Pallavi gets disqualified due to cheating (Upcoming Twist)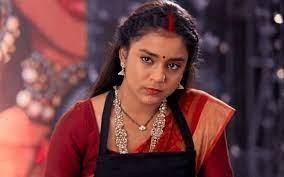 Imlie: Pallavi disqualified from cooking competition
Star Plus' latest offering Imlie is revolving around Imlie's fight to gain respect.
It was earlier seen that Imlie will take part in cooking competition to show her worth in front of her family.
However she will be shocked to know that Anu is the judge.
Shocking Pallavi will try to help Imlie as she has no idea how to make an Italian dish.
Anu finds Pallavi trying to help Imlie and she disqualifies Pallavi for cheating.
Imlie feels sorry for Pallavi and she decides to give her best in making pasta.
Anu plays dirty trick
Eventually, the judges get to taste the contestants' dishes blindfolded and they choose Imlie's dish as the winner of round 1.
However, Anu could not digest Imlie emerging as the winner of that round and asks them to disqualify her.
Let's see what will happen next in the show.