Imlie: Aparna attempt to wipe out sindoor from imlie's hairline (Upcoming Twist)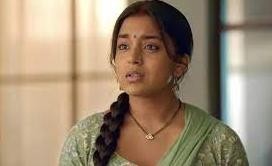 Imlie: Aparna desperate move to break Imlie Aditya alliance
Star Plus' latest offering Imlie is going to unfold a lot of drama in the upcoming episodes.
It seems that Aparna has turned negative as she cannot bear the thought of a maid servant getting married to her son.
She will try her level best to make Aditya understand that the society will never accept this alliance but Aditya is madly in love with Imlie to understand anything.
Aparna now asks Imlie to wipe off her sindoor and leave while Imlie takes a firm stand.
Imlie takes a firm stand for herself and as Aparna tries to wipe off her sindoor, she holds her hand.
Aparna dead against Imlie
It would be interesting to know what happens next on the show.
Will Aparna be able to accept Imlie or not?
Let's see what will happen next in the show.